Uncommon Wedding Music
Celtic & Original Music on Guitar, Mandocello, Violin, Concertina & Pennywhistle
Stanley Greenthal: Vocals, Guitar and Mandocello
Randal Bays: Violin and Pennywhistle
Joel Bernstein: Concertina and Harmonica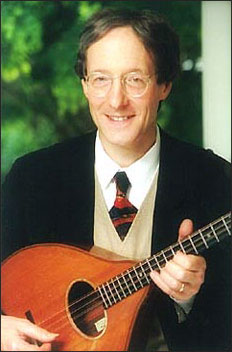 Uncommon Wedding Music is the creation of Stanley Greenthal, nationally acclaimed songwriter, who composes original songs and instrumentals drawn from the musical traditions of Scotland, Ireland, Brittany and the Balkans.
In a solo format, Stanley's rich vocals combine masterfully with his dexterous guitar and mandocello arrangements. In duo and trio formats, the music is highlighted by a number of talented multi-instrumentalists, who contribute violin, pennywhistle, concertina and harmonica.
Uncommon Wedding Music says what it is: It has the elegance of classical music, yet the earthiness of folk music, and it reflects the joy and seriousness of one of the most ancient ceremonies in life. Stately Irish harp compositions and marches, along with spirited waltzes, jigs, reels and other Celtic dance tunes ideally complement both your wedding ceremony and reception.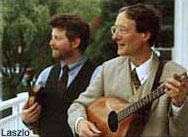 Uncommon Wedding Music is also available for corporate events, private celebrations, festivals, church services and memorials.
---
An Uncommon Wedding Music demo CD is available! (See below.) To request a copy, please or inquire at 206.325.9011.
---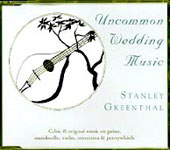 PRE-CEREMONY MUSIC
1. Kimiad - A traditional Breton march, guitar.
2. Carolan's Draught (Carolan) - By the renowned 17th century Irish harper Turlough O' Carolan, mandocello and concertina. .wav, 404 KB»
3. Moran's Return - A lovely tune with a long history in Scotland, first notated in Co. Limerick, Ireland, guitar, violin, concertina and harmonica. .wav, 468 KB»
4. Invernia - A traditional tune from Galicia, in the Northwest of Spain, guitar, concertina and pennywhistle.
5. Marriage Blessing (Greenthal) - A wedding song for my daughter Becca and her husband Charles
PROCESSIONALS
6. Walking to Watmough (Greenthal) - From my recording, All Roads. .wav, 752 KB»
7. Greensleeves - Our version of a perennial favorite... guitar and violin.
8. My Love is an Arbutus - An Irish air, guitar.
9. Eleanor Plunkett (Carolan) - Another harp composition by Carolan, guitar and violin. .wav, 612 KB»
10. This Love (Greenthal) - From Turning Towards You, written for my wife Kip,
RECESSIONALS
11. Si Bheag, Si Mhor (Carolan) - Reputedly Carolan's first composition, guitar
12. Cullen Bay (Duncan) - A Scottish 5/4 pipe march by Ian Duncan, guitar and violin.
13. Tabhair Dom Do Lamh (Give Me Your Hand) - Composed by the 17th century Irish harper Rory Dall O' Cathain, mandocello, violin and concertina. .wav, 464 KB»
14. Breton Plinn - Traditional Breton dance tune, guitar and violin. .wav, 568 KB»
15. Shoal Water (Greenthal) - From All Roads, Stanley Greenthal.
RECEPTION MUSIC
16. The Pretty Maid Waltz - This Irish tune makes a wonderful setting for the first dance, guitar and concertina. .wav, 608 KB»
17. January/After Midnight Polkas (Greenthal) - From Songs for the Journey.
18. Taithir Jack Walsh's/The Clare Jig - A set of Irish jigs to inspire the dancers... mandocello and violin. .wav, 568 KB»
19. Dance from Bulgaria - A 15th century dance melody from Bulgaria in 7/8 time, mandocello.
20. The Otter's Holt/Maud Millar/Farewell to Connacht - A set of lively Irish reels, mandocello, violin and concertina.
21. Two Breton Plinns - Festive dance music from Brittany, guitar and violin.